We provide structural analysis and design of bottom-fixed and floating wind turbine generator (WTG) foundations, substations, foundation load simulations, coupled load assessments, installation assessment, weather downtime analysis, and mooring and anchor analysis.
Offshore wind farms and wind turbines are installed with different types of foundations depending on several factors, including the depth of the water at the site's location.
An expert, dedicated team from design to implementation
Our dedicated team includes more than 20 engineers with various experience working with monopile, jacket, gravity-based and secondary structure design foundations.
We will be involved throughout all stages of the design process, including options evaluation and concept selection, FEED, levelised cost of energy (LCoE) optimisation and detailed design. For structures that are in service, we offer structural asset integrity services to help operators predict future life, plan repairs and plan inspections.
Our Solutions
Bottom-fixed wind turbine foundations
Our team has extensive experience in WTG foundation design and Offshore Sub-Station (OSS) foundation design, including the following:
Concept / FEED design
Expert users of reference software tools such as ANSYS, SACS and SESAM
Experience with interfacing between:

Bladed and SACS
FAST and ANSYS
FAST and OrcaFlex

Structural verifications (incl. fatigue lifetime) according to ISO, EN, and DNVGL standards.
Key design driver for ultimate code check and fatigue lifetime depending on the WTG foundation type.
Primary structure design
Ultimate strength verification (yielding and buckling)
Fatigue lifetime estimation
Steel structure, stress concentration factors, local joint flexibility
Prestressed concrete
Secondary steel structure
Boal-landing design against ship impact
Internal and External platform design
Interface with WTG Supplier
Experience with technical requirements from the WTG Supplier
Experience with interfacing during the integrated load assessment process
Clustering Analysis
Definition of WTG Foundation clusters
Definition of most representative design conditions
Interface with the IA Cable Supplier
Experience with technical requirements from the IA Cable Supplier
Integration of the export cable in the foundation design
Floating wind turbine foundations
Our team also handles integrated modelling of floating WTG foundations, often under complex wind and ocean loadings. Via our sister company, INNOSEA, our experts can also advise on wind/wave tank testing and code-to-experiment calibrations.
WTG loads assessments
Loads assessment methodology for floating wind farms is less streamlined than for bottom-fixed wind farms, requiring the utilisation of multiple aeroelastic tools to adapt to the project context and objective. This can include:
Bladed standalone
FAST standalone, including in-house hydrodynamic developments
FAST coupled with Orcaflex
Deeplines Wind
CACTUS coupled with InWave
Client-specific software development (Stationis, BhawC – Orcaflex)
Other Floating foundation services
Independent loads iterations for cross-checking of Floater Designer's results
Sensitivity analysis on floater/mooring design parameters
Assistance to management & follow-up of loads iterations
Wave tank testing
Definition of Design Load Cases
Mooring selection and configuration assessments (Layout, Anchoring requirements)
Mooring & Cable Analyses and installation engineering
Static and Dynamic simulations
Extreme Analysis
Interference Analysis (Clashing study – Floater Hull and dynamic cable)
Fatigue Analysis
Innosea, part of OWC, is a specialist Marine Renewable Energies (MRE) multidisciplinary engineering, strategy advisory and R&D consultancy, with a specialist team focusing on the planning, development and construction of floating wind farms.
The value we bring
Market leaders in fixed and floating foundation engineering and consultancy 
Technical experts with experience from planning to construction, maintenance and decommissioning. 
Global presence with teams across 63 offices and 39 countries.
In-house software to support cable & mooring design of floating structures
Extensive experience in WTG and OSS foundation design
Specialist dedicated floating wind team at INNOSEA
Related Services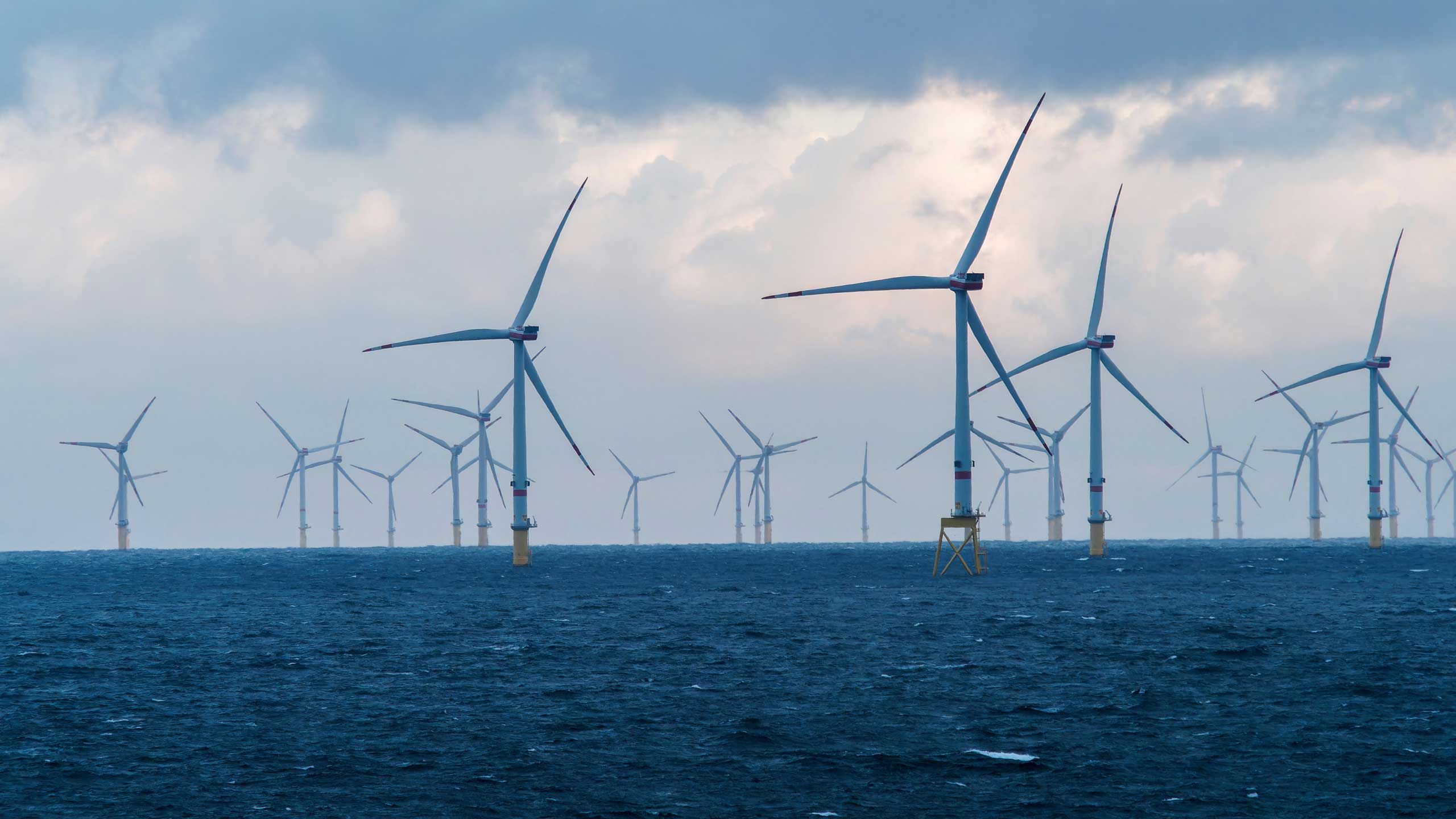 Offshore energy development carries the unique challenge of balancing design, financial and project certification. An optimal quality wind resource and metocean measurement campaign set the basis for any succeeding energy yield or design-related studies and processes impacting the certainty of energy yield. OWC combines first-hand research knowledge in the field of wind measurements with practical […]
Related News & Media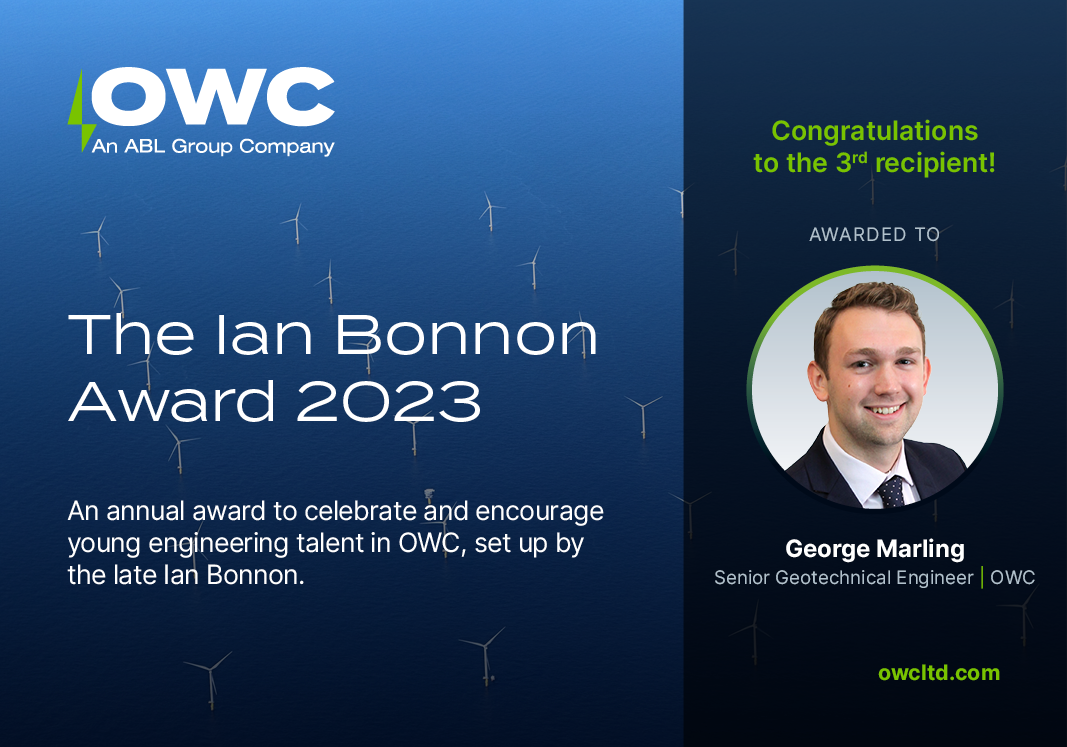 The Ian Bonnon Award Winner for 2023 has been awarded to George Marling, Senior Geotechnical Engineer based in New York.