Q&A – MD Will Cleverly looks to the future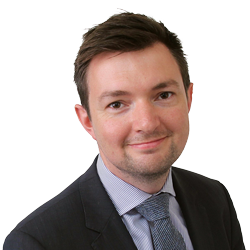 What is your role in OWC and when did you join?
I joined OWC when we were very small as Geotechnical Lead (as well as Printer Repairman and Head of Tea-making, amongst other prestigious roles) in 2012. As the company grew, I grew with it, and after a successful stint establishing the business in Asia, I was honoured to be offered the role of Managing Director in 2019.
So after 9 years why the decision to rebrand Offshore Wind Consultants to OWC?
All good things come to an end. While the logo delivered exactly what it was designed to do; tell clients exactly what we did when we had zero brand recognition, we feel it now doesn't reflect the agile, modern and global company we are. It was also important to rebrand closer to our parent company AqualisBraemar, given we share the same offices, teams and success.
What's in a name? Feel free to call us "OWC" or "the offshore wind consultants", because being the only global technical consultancy serving solely offshore wind that's who we are!
What changes in the market have you witnessed in your time at OWC?
Offshore wind was a nascent industry, focussed mainly in Europe when OWC was started. In the last few years its really become a juggernaut; with companies, investors and governments worldwide piling into the industry. I never dreamed I would be working on projects and proposals from Taiwan to Lithuania, as I found myself this week. OWC have positioned ourselves well for emerging markets, opening offices and having teams in countries where our clients need support (currently London, Edinburgh, Taiwan, US, Germany, Australia, Brazil and Korea – and soon to be Poland and Japan)
Floating wind has also emerged in force over the last 18 months, with 7,000 GW planned in exciting new projects worldwide. As oil majors inevitably take the plunge and invest in renewables with gusto, their financial clout and offshore experience should unlock even more opportunities.
What exciting projects does OWC have to look forward to in 2020
Well, talking of floating wind, you may have seen we have just been awarded a substantial package of work on Simply Blue Energy and Total's Erebus project. This is hugely exciting for us as it builds on our floating experience and knowledge in the whole AqualisBraemar group, and positions us at the forefront of another industry.
In addition, we have just been awarded a major US piece of work which we will hopefully announce soon, and of course, we work in ScotWind, Round 4 in the UK and are still picking up new clients in Vietnam, Japan, Korea and Taiwan.
Are you looking pause growth during the COVID-19 crisis?
Absolutely not. We have a large backlog and a rapidly growing pipeline due to our increased global footprint and reputation. We want to add more talented people to the teams (so if you think you've got what it takes, please apply!). There are a couple of exciting new additions to the team coming up in the next 8 weeks; in Poland, Japan and Pembroke (Wales)… Watch this space.