OWC reaches 50 GW milestone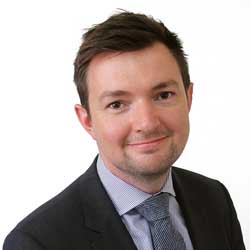 Following recent project awards in Taiwan, the US and the UK, OWC has reached the impressive milestone of being involved in more than 50 GW of offshore wind projects since the company's inception in 2011.
"If someone told us ten years ago that we would have been involved in a quarter of the world's offshore wind capacity by 2030, I would have said that was just a load of hot air," jokes Will Cleverly, managing director of OWC, an independent technical advisor, engineering and project management consultancy to the offshore renewables sector.
Several recent project awards take OWC to a total of 50.6 GW of offshore wind project involvement since it was founded.
Today, approximately 28 GW of offshore wind capacity has been installed globally, according to the 'Global Offshore Wind 2020′ report recently published by the Energy Industries Council. According to the same report, this figure could grow to between 164 and 200 GW installed capacity by 2030.
"The 50 GW project track record is proud milestone for us which proves that we have become one of the world's favoured consultancies for owners and developers of offshore wind farms," adds Cleverly.
The recent EIC report also raises concerns about the supply chain's ability to meet global demand, particularly for vessels, skilled labour and fabrication shipyards.
"Choosing the optimal wind farm design will help reduce costs and labour intensity. This is the essence of what we, at OWC, help wind farm developers achieve. We will continue recruiting the best talent to assist the offshore wind industry in managing the extensive growth trajectory we see coming," adds Cleverly.
OWC is the offshore wind unit of Oslo-listed AqualisBraemar ASA.
Endre Aaberg Johansen, Corporate Communications AS, tel: +47 41 61 06 05, email: endre.johansen@corpcom.no.
About AqualisBraemar ASA
AqualisBraemar ASA (OSE: Aqua) offers independent consultancy services to the offshore energy (oil & gas and renewables), shipping and insurance industries. The group employs specialist engineers, naval architects, master mariners, loss adjusters and technical consultants in 33 countries worldwide. AqualisBraemar ASA operates under three brands:
AqualisBraemar: a leading adjusting, marine and offshore consultancy to the energy, shipping and insurance industries.
AqualisBraemar Yacht Services: a specialised marine consultancy to the superyacht market.
OWC: an independent technical advisor, engineering and project management consultancy to the offshore renewables sector