OWC's Will Cleverly Shortlisted for Industry Leader of the Year Award
A Word About Wind confirms shortlist of the second edition of its Wind Investment Awards programme, celebrating best practice in the global wind sector.
London, 31st of March 2021 – We are very excited to announce that OWC Managing Director Will Cleverly has been shortlisted for the Industry Leader of the Year Award at the second edition of the Wind Investment Awards.
"I am honoured to join such an impressive list of leaders. This nomination comes as a wonderful recognition of OWC's growth in the past years, with great project wins and new offices opening around the world", said Will.
OWC is a specialist consultancy that helps develop and deliver offshore wind projects and investments for developers and investors in all global markets. The company offers project development services, owner's engineering and technical due diligence to the offshore renewables sector.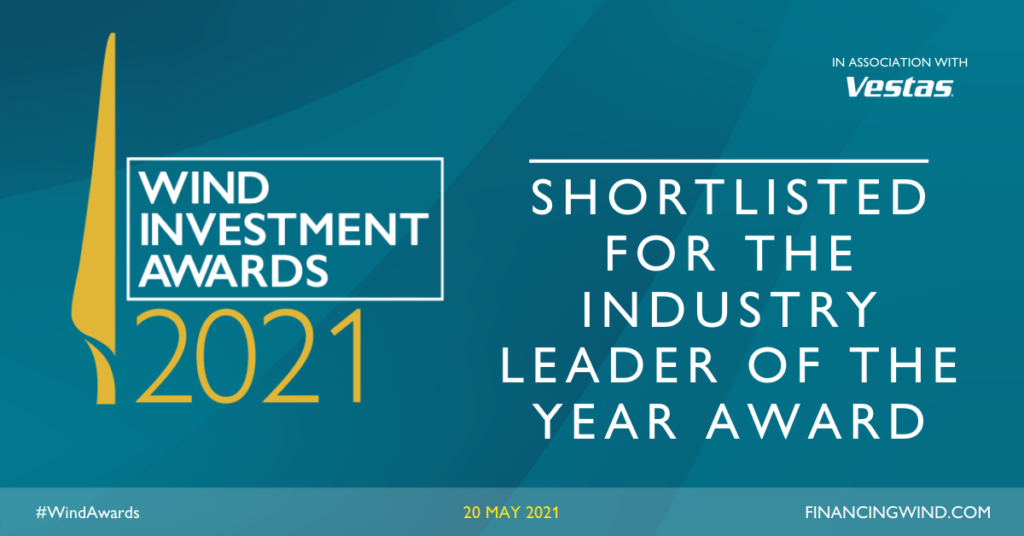 The annual Wind Investment Awards is a platform to celebrate best practice in the global onshore and offshore wind industry, incorporating innovation, financing, project development and asset management. Hosted by global wind industry community A Word About Wind, the awards unite prominent decision-makers to enable opportunities to network and forge long-term business connections.
Adam Barber, Managing Director of Tamarindo Group, parent company of A Word About Wind, said: "There's no question it's been a challenging year. Within our industry, and the world at large. Which is all the more reason we take pride in acknowledging and celebrating the successes of businesses and individuals within the global wind sector over the last 12 months. It's invigorating to see the level of passion within the industry, the commitment to driving innovation, and the impact that has on the future of renewable energy production. We congratulate them all and will continue to play our part in empowering people in the sector to build a cleaner and fairer world."
The 2021 Wind Investment Awards will be held virtually on May 20th, in conjunction with the Financing Wind Europe conference. Click here to find out more: https://www.financingwind.com/