OWC's Cleverly takes on global renewables group role
Will Cleverly, formerly managing director of offshore wind consultancy OWC, has been promoted to the newly established role of global managing director for renewables across the entire AqualisBraemar LOC (ABL) group, which includes OWC, Innosea, ABL, East Point Geo and Longitude.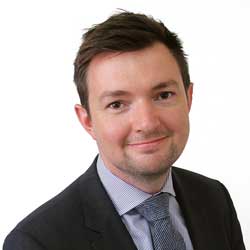 Following AqualisBraemar's acquisition of the LOC group last year, the resulting ABL Group is firmly established as the leading independent technical consultancy partner to the offshore renewables sector, including offshore wind, solar, wave and tidal energies, green marine and clean shipping solutions.
Cleverly has been with OWC since 2013 and was appointed managing director in July 2019 after establishing the successful OWC Taipei office. Since then, under his leadership OWC has opened further offices in Korea, Japan, New York, and Poland, and broadened OWC's client offering including electrical and grid, wind yield and geophysics (including the acquisition of specialist UK based geo-consultancy East Point Geo).
During this time, OWC's headcount has increased to over 130 FTEs, and revenues have tripled.
Going forward, Cleverly will be responsible for the growth of the whole renewables offering in ABL. He will hold profit and loss responsibility for the OWC, Innosea and East Point Geo companies, focusing on organic and inorganic growth into all renewable segments including offshore and onshore wind, solar, storage and floating PV. He will also have a leadership and coordination role for other renewables activities from the wider group including its world-leading offering within marine warranty services for offshore wind.
"Since becoming managing director of OWC two years ago, the company has grown tremendously. Will understands the commercial priorities of developers, investors, operators and engineering companies, and couples this with detailed technical competence within offshore renewables. We want Will to now turn his attention to growing the whole renewables offering within the ABL Group and are confident he has the skills to do so." says David Wells, CEO of Oslo-listed ABL Group.
The organisational change is also part of ABL Group's strategy to generate 50 percent of its revenues from renewables and other sustainable oriented markets going forward.
"I am delighted to be given the opportunity to work with such brilliant teams of engineers and consultants across all our renewable service companies, and to combine their competence in a complete service offering across the renewables space. I have always been proud to promote the fact that OWC has grown faster than the industry year on year, and with the impressive team in place across ABL I have the same ambitions for the wider renewables offering" says Will Cleverly.
ABL Group currently operates in the renewable sectors through five brands: Innosea, the engineering, concept design, advisory and R&D specialists, involved in offshore wind, floating solar, wave and tidal energy; OWC, offshore wind consultants that support developers worldwide; ABL, a world-leading marine warranty and marine engineering consulting for offshore wind; Longitude, an independent engineering and design company, primarily to EPC contractors operating in the renewables sectors; and East Point Geo, specialists in geotechnical, geophysical and geological engineering and analyses for offshore wind.
Cleverly's successor as managing director of OWC will be announced imminently.