OWC to drive further geographical expansion
Wind consultancy OWC has appointed David Wotherspoon to the newly created role of head of new geographies, with a remit of identifying and planning market entry for emerging offshore and onshore wind markets.
"OWC's strategy has always been to support developers and operators when they venture into emerging wind markets, with feet on the ground and local value creation and employment. David's appointment provides additional focus on this, targeting early stage market entry and will co-ordinate with our local and global group teams. We want to bring our experience to assist emerging markets in realising their offshore wind ambitions as quickly, safely and cost-efficiently as possible and further support the energy transition in these countries,"

Katherine Phillips, managing director of OWC
Wotherspoon will work closely with OWC's parent group AqualisBraemar LOC's regional and country managers to expand OWC's services to new geographies. Though his focus is predominantly offshore, Wotherspoon will also support onshore renewable energy developments.
Wotherspoon has close to two decades of experience in the renewables industry. He joins OWC from a role as development director for Enterprize Energy's Thang Long offshore wind project, Vietnam's first true offshore windfarm. Wotherspoon also provided development, technical and governance support to Taiwan's Yushan Energy's three offshore windfarms totalling 1GW capacity, including their successful auction round bid.
Earlier in his career, Wotherspoon acted as project director for the principal contractor role for the construction of the Teeside Offshore windfarm. He has also delivered the first offshore wind strategic environmental assessment (SEA) for Ireland and Northern Ireland, and the wave and tidal energy SEA for Scotland.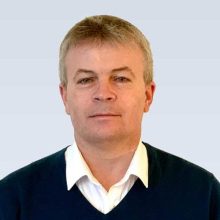 "I am delighted to join OWC, a company that can demonstrate an impressive track record and an ambition to be at the forefront of nascent and emerging offshore wind markets, supporting local and international developers and governments to get projects off the ground. We are already looking at opportunities in Europe, Asia-Pacific and the Americas. We also expect that brand new opportunities will appear in the southern hemisphere. To meet the climate change ambitions set out in COP26, Governments will have to move quickly with policy decisions and enabling actions, and our team can support developers, operators and governments in realising their ambitions," says David Wotherspoon
OWC, an AqualisBraemar LOC Group (ABL Group) company, is a leading independent engineering consultancy supporting the development and realisation of offshore wind projects, with a range of services, including project development services, owner's engineering and technical due diligence.
OWC is part of Oslo-listed AqualisBraemar LOC ASA.