OWC presents on offshore wind experience at UK & Brazil: Partners in Energy 2023
This past week, OWC was invited by the British government to speak about our experience in offshore wind development at the 10th edition of UK & Brazil: Partners in Energy 2023 conference in Brazil.
Our team was joined by British and Brazilian officials and executives from the energy sector including the UK Department of Business and Trade and Associação Brasileira de Energia Eólica (ABEEólica).
The UK & Brazil: Partners in Energy is an annual conference that aims to promote and strengthen the partnership between UK and Brazil in the energy sector, through knowledge sharing, best practice and commercial exchange. The conference provides a platform for UK and Brazilian companies and government agencies to discuss the future of the energy sector, its challenges and opportunities, and to gain a deeper insight into regulatory frameworks, new technologies and solutions.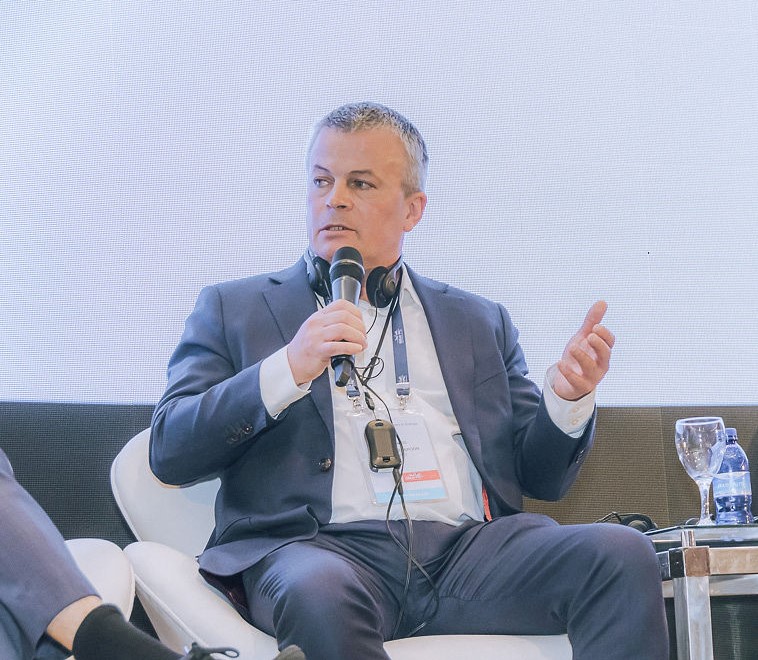 David Wotherspoon, Head of New Geographies at OWC, tapped into these ideas, specifically offshore wind and hydrogen solutions, while presenting on how OWC can help Brazil compete in the global offshore wind market. Some of his key takeaways are as follows.
David introduced the global offshore wind scene and expected growth in the next ten years, specifying that all forecasts show global growth in offshore wind. For example, GWEC predicts offshore wind installed base is expected to increase from 56GW to 370GW by 2031 and Europe will drop below 50% of installed base by 2025, leaving room for new markets to emerge, including Brazil.
Our head of new geographies focused on one successful country, Scotland, drawing parallels between Brazil and Scotland, including the potential auction process, route to market, supply chain challenges, and ports and harbour infrastructure.
Similar to Brazil, Scotland was new to the offshore wind space but awarded approximately 28GW of offshore wind leases as part of "ScotWind," of which approximately 15GW were floating wind, positioning Scotland at the forefront of this industry within the year. OWC provided consultancy support and bid support to help developers put competitive bids forward, resulting in successful bids for all Clients we supported. OWC's partners were awarded 4 of the total 17 original project awards, equivalent to 20% of capacity awarded (5GW). Our support does not stop there. We continued to help our clients in the development of their projects in 2023.
So how does this relate to Brazil? Well, David tied it all together by pointing out that there is currently an estimated 170 GW in capacity now under review by IBAMA, as clients prepare for the expected first lease auction this year and rapid growth in LATAM's offshore wind. David also highlighted the potential for green hydrogen quoting McKinsey 2021,
"Endowed with abundant wind and solar energy potential, an integrated, low-carbon power grid and geographic advantages to export to Europe and the east coast of North America, plus a significant domestic industry, Brazil has the opportunity to become one of the world leaders in the production of green hydrogen."
Although there is great potential in Brazil for offshore wind and hydrogen, explosive growth comes with challenges. David highlighted supply crunch, cost inflation, inexperienced supply chain, and port and vessel capacity could all be challenges facing developers in Brazil.
Luckily, OWC provides solutions to each of these and are even currently underway. OSW site feasibility assessments, engineering support, OSW port assessment, OSW supply chain analysis, and route-to-market for hydrogen are all services taking place in Brazil.
Luany Dantas
Brazil Country Manager and Naval Architect
---
OWC and ABL Brazil provide pre-development and development services including port suitability assessments, market study services, bid advisory, site identification, supply chain studies, regulations and procedures, route-to-market. OWC can support on lease/auction processes to help developers put competitive bids forward. OWC were named project partners in ~20% of capacity awarded in ScotWind (5GW) and is currently supporting clients in other auctions in the US, Europe, and Asia.