Offshore Wind Consultants Ltd (OWC) promotes Will Cleverly to the role as managing director of the company.
OWC is an internationally recognised independent engineering consultancy focused on the development and realisation of offshore renewables technology and projects. The company has achieved significant growth since its inception in 2011.
Will Cleverly has more than 10 years' experience in offshore wind. He has worked as a foundation designer, senior consultant and EPC director, on over 10GW of offshore wind projects. Cleverly joined OWC in 2013. Since 2018, he has been managing director of OWC's Taiwan office – establishing and growing the business unit into one of the leading teams in that fast growing emerging market. Cleverly is a Chartered Civil Engineer with a University of Cambridge engineering degree and an MBA.
Cleverly succeeds OWC founder Ian Bonnon, who is staying fully involved with the company and going forward will focus on delivering consultancy and advisory work for OWC's clients. He will also continue in his role as chairman of OWC.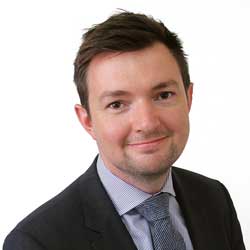 "I am proud to be leading such a talented, diverse, and fast-growing team. The opportunities for OWC are endless, but we will remain loyal to our specialist approach that has made us a favoured consultancy for offshore wind farm developments all over the world. In addition, we aim to further expand our consultancy services within due diligence, earthquake analyses, and floating wind, as well as our global presence."

Will Cleverly
OWC is part of Oslo-listed AqualisBraemar ASA, a result of the recent unification between Aqualis Offshore and Braemar Technical Services. AqualisBraemar is a leading renewables, offshore, adjusting and marine consultancy group with service offering across all major basins. The group is represented with 48 offices in 33 countries, with more than 430 full-time equivalent employees globally and a physical presence on all five continents. Its head office is in London, UK.
Investors and financial media
Kim Boman, CFO, AqualisBraemar ASA
Telephone: +47 959 63 912

Other media enquiries
Endre Johansen, Corporate Communications AS
Telephone: +47 41 61 06 05
Email: endre.johansen@corpcom.no
About AqualisBraemar ASA
AqualisBraemar ASA (OSE: Aqua) is a public listed company that, through its subsidiaries and associates, offers adjusting, marine, offshore and renewables consultancy services to the energy, shipping and insurance industries. The group employs specialist engineers, naval architects, master mariners, loss adjusters and technical consultants in 48 offices located across 5 continents in 33 countries. AqualisBraemar ASA operates under three distinct brands globally:
AqualisBraemar: a leading adjusting, marine and offshore consultancy to the energy, shipping and insurance industries
AqualisBraemar Yacht Services: a specialised marine consultant to the superyacht market
Offshore Wind Consultants: an independent consultancy to the offshore renewables sector