Ireland's National Hydrogen Strategy – Opportunities and Developments
Ireland's Department of the Environment, Climate and Communications published its National Hydrogen Strategy on 12th July 2023, establishing the government's vision for the role that hydrogen will play in progressing towards its net-zero targets. OWC's Head of Hydrogen, Nguyen Dinh – based in Cork – explains the key elements of the initiative.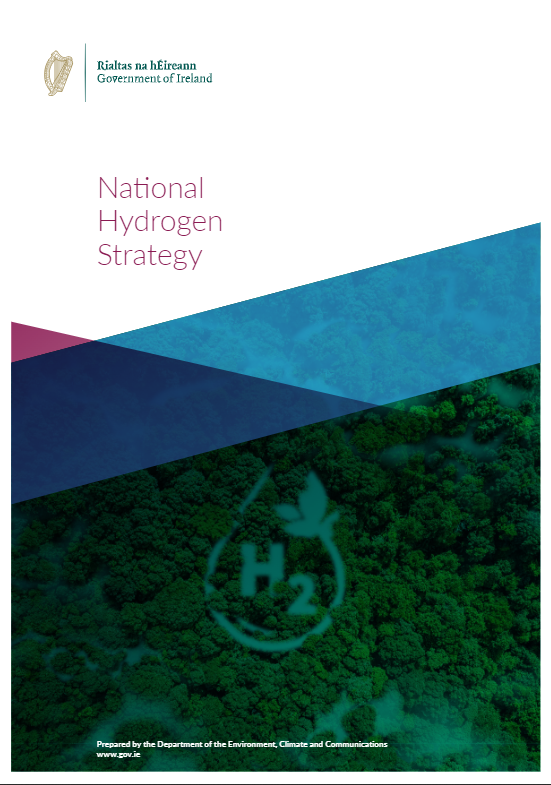 The National Hydrogen Strategy aims to reduce industry uncertainty, exploring how hydrogen can be produced at scale in Ireland as well as the long-term expansion and development of the country's hydrogen market. The plans focus on three primary drivers:
Decarbonising the economy – particularly in sectors where electrification is not feasible or cost-effective
Enhancing energy security
Creating industrial opportunities – including the potential development of export markets for renewable hydrogen and its derivatives
The document emphasises the challenges in scaling hydrogen production without significant developments to the value chain, including cost reductions, supply chains, transportation and storage, end-uses, safety, regulation, innovation and skills. This emphasis is crucial, as the capital expenditure of producing, storing and transporting hydrogen remains complicated, expensive and often very sensitive to various risks in component and integration technology (such as electrolysers), management, development, and other project stages. It will be essential, therefore, to ensure that Ireland's supply chain and infrastructure is developed and experienced enough to identify and mitigate the risks.
An additional recent development is the launch of the Maritime Area Regulatory Authority (MARA), which will also serve to advance the hydrogen sector. Ireland has incredible offshore wind potential, with a huge maritime area and site conditions suited to both fixed and floating developments. The MARA will oversee the consenting of MAC licenses for projects within the government's declared DMAP areas. With targets to have 5GW of offshore wind operational (plus an additional 2GW of floating offshore wind in development) by 2030 and the long-term potential pipeline to produce vastly more electricity than is required to meet domestic demand, Ireland could become a major player and net exporter of green electricity, hydrogen and its derivatives.
Further benefit to the development of surplus renewable energy will be in achieving heightened energy security. The production of domestic hydrogen will allow Ireland to have greater independence from importing traditional energy sources such as oil and gas, and will ultimately contribute to more reliable, and by extension, lower energy prices in the long term by utilising the economy of scale.
OWC is a global renewable energy consultancy providing specialised, independent technical services to cover the full lifecycle of hydrogen projects. We have worked on some of the most advanced hydrogen projects, successfully completing +40 projects covering market studies, business plans, production, storage, transportation and application. Our experts are happy and ready to support the implementation of Ireland's National Hydrogen Strategy by mobilising our experienced teams, both globally through access to parent company ABL Group's network of 65 offices in 39 countries, and locally in Ireland through OWC's Cork office.
Our track record includes projects such as the NEOM Green Hydrogen Project, the world's largest utility scale, commercially-based hydrogen facility powered entirely by renewable energy. When commissioned in 2026, it will produce 600 tonnes per day of clean hydrogen by electrolysis using ThyssenKrupp technology. OWC's scope included FEED and Pre-EPC risk reviews, EPC tendering support and reviews, as well as engineering support during detailed design and construction.
Our services in hydrogen include:
Power to X (hydrogen, ammonia, etc):

Site assessment & production mapping

Technology/ cost/ markets advisory

Project specification & bid support

Concept/ FS/ engineering design

Economic analysis (LCOH, NPV)

Process engineering & safety;
Electrolyser & renewable integration;
Storage (operation and infrastructure including tanks and underground);
Transportation (pipeline, shipping)
Hydrogen application design (e.g. maritime, ferries, ship);
Fuel cell;
R&D;
Marine warranty survey of hydrogen and project cargoes;
Maritime advisory;
Ports & harbours
For more information on OWC's Hydrogen project experience and services, or to speak to a member of the team, visit our hydrogen hub: