Kirsty Watt wins Aspiring Leader Runner-up at Global Offshore Wind Awards 2023
OWC is delighted to announce that Kirsty Watt, a consultant based in our London office, has been awarded the Aspiring Leader Award – Runner Up, by RenewableUK at the Global Offshore Wind Awards 2023.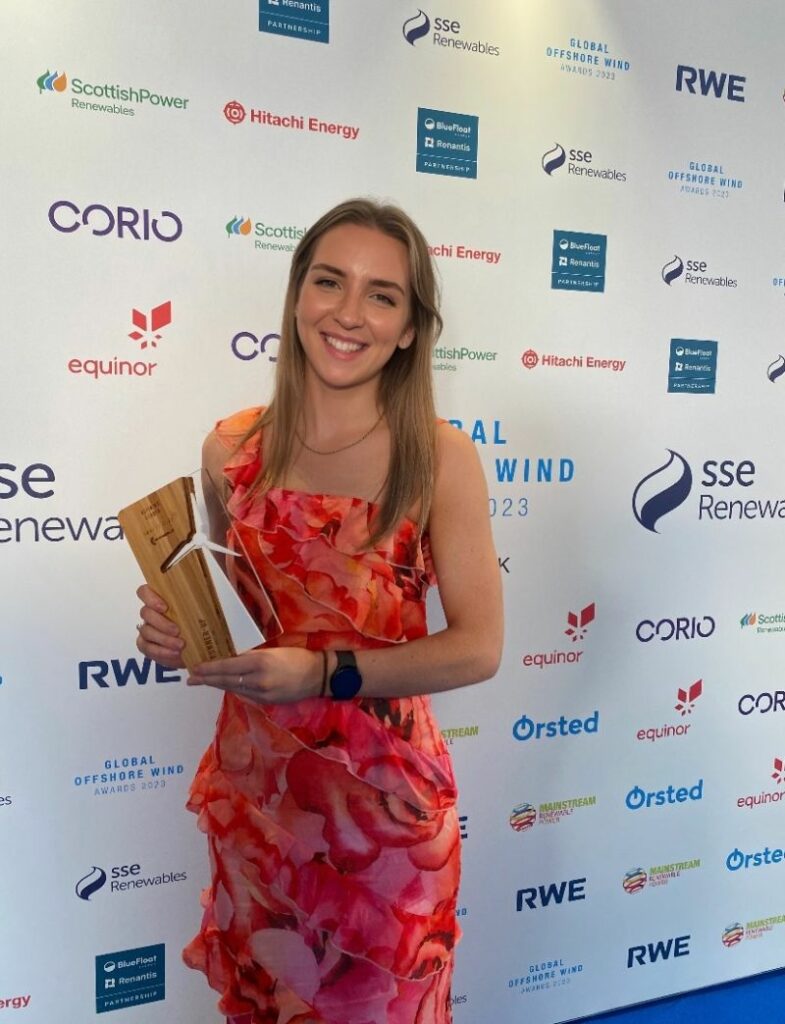 The awards ceremony was held at the Royal Lancaster London on 26th October, with thirteen main categories showcasing key aspects of the industry, including People, Skills, Health and Safety, Innovation and Excellence, and Environmental, Social and Governance (ESG). The expert panel of judges for the night was formed by senior industry and government figures from a diverse range of backgrounds.
The Awards are a celebration of what drives the Offshore Wind industry forward – growth, innovation, vibrancy and resilience of our supply chain, our incredible people and the quality of our provisions on health and safety.
Kirsty's recent achievements include acting as Portfolio Director for a series of high-profile early-stage offshore wind projects in Northern Europe. Under Kirsty's confident and visionary leadership, the project hit some ambitious deadlines which will successfully increase the portfolio's resilience in achieving site security. Speaking on accepting the award, Kirsty said

"Thank you RenewableUK for this recognition at the Global Offshore Wind Awards. I would never have thought I would be nominated, let alone receive the runners-up prize, this early in my career!

A massive thank you to OWC for even thinking to put me forward! I love working for a consultancy that has a great focus on ensuring the developmental growth of its employees whilst working on some amazing projects. Can't wait to see what the next year has in store!"
The winner of the main prize for Aspiring Leader Award was Arturo Pulido Pérez, from the Ministry of Mines and Energy in Colombia. Kirsty was one of two runners-up in this category alongside Ian Toothill of SSE Renewables.    
We couldn't be more proud of Kirsty for this recognition, as well as her continuing success, thoughtful leadership and dedicated hard work.